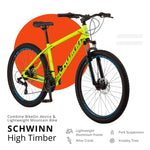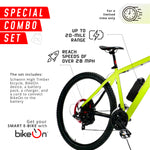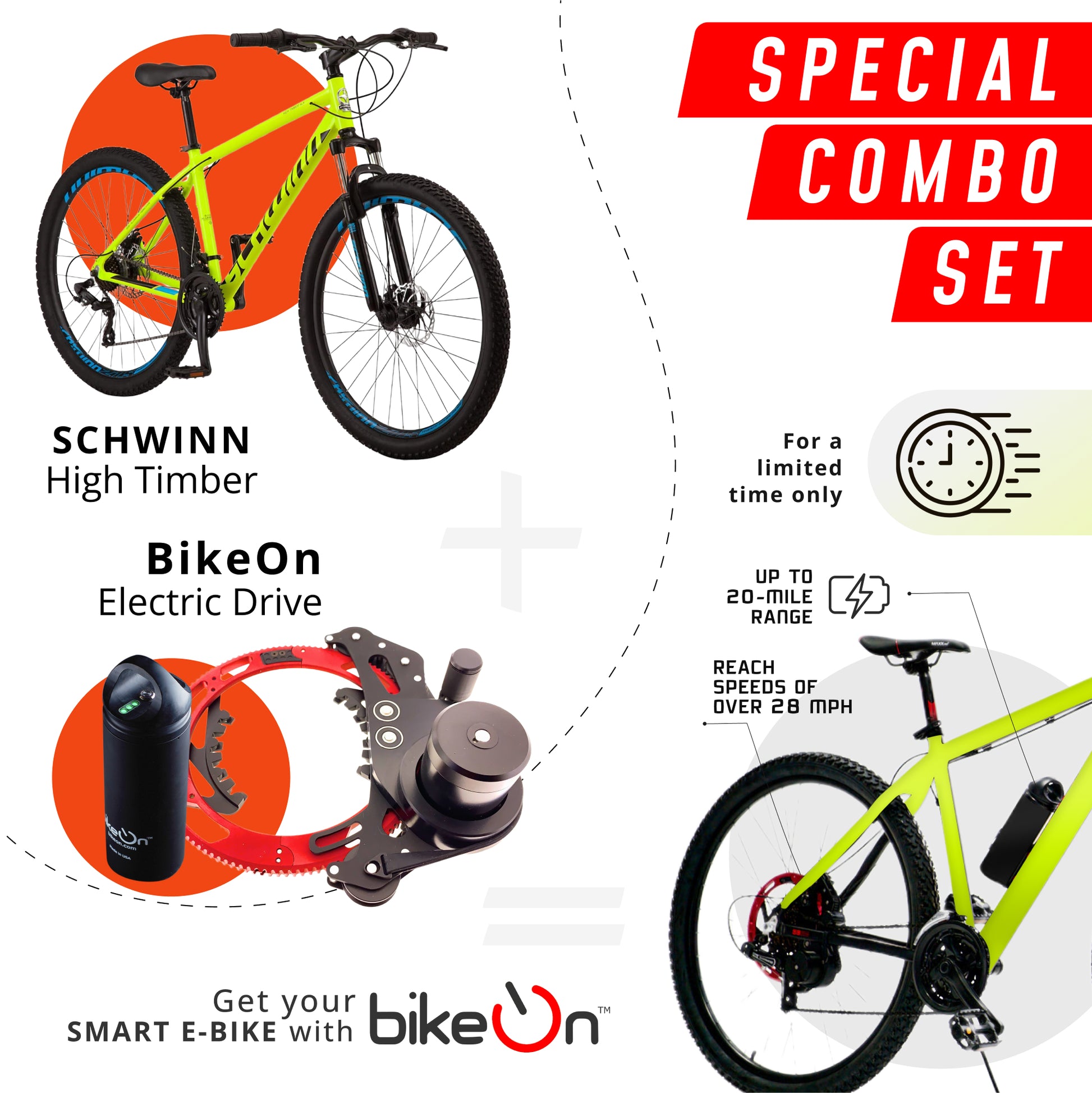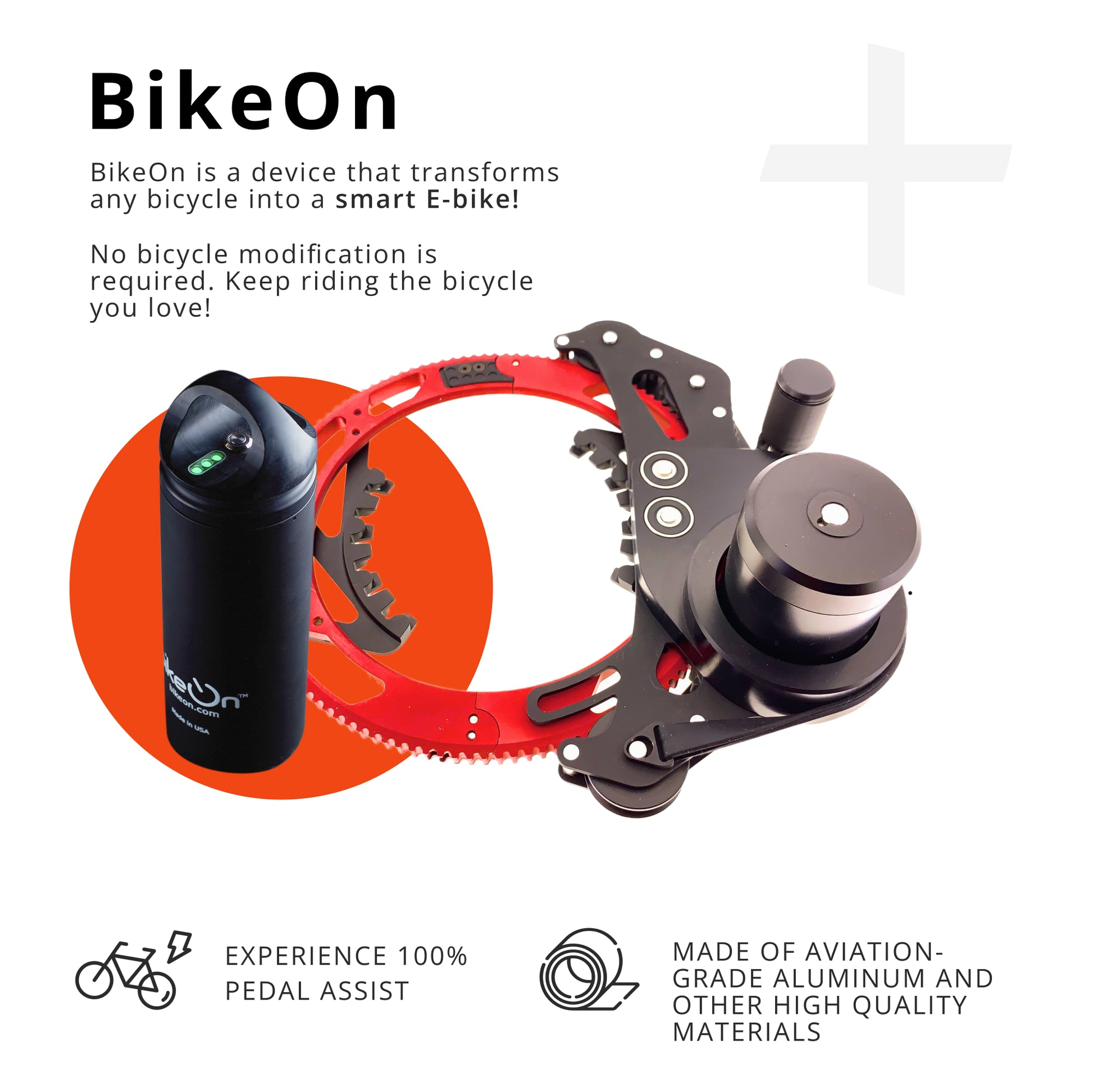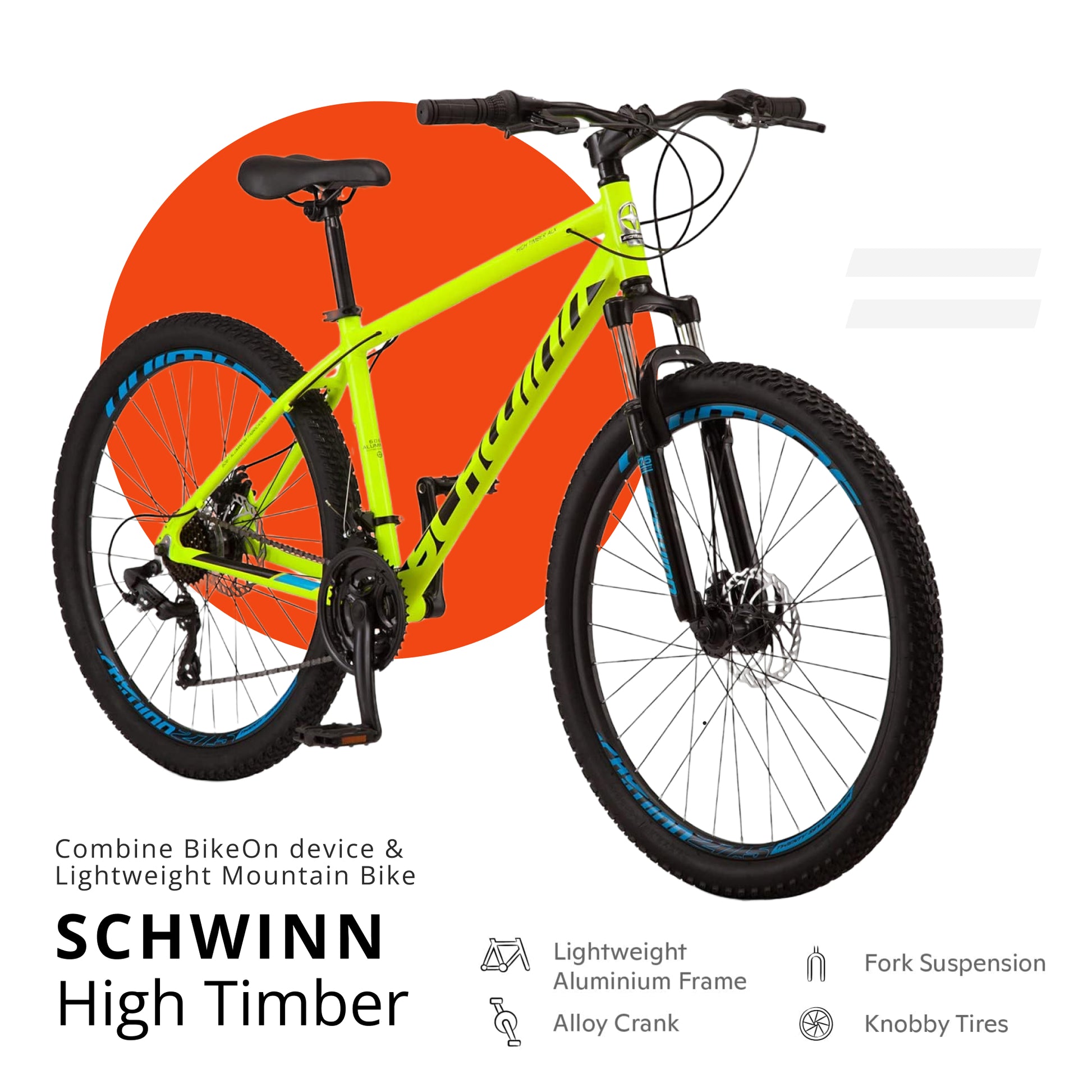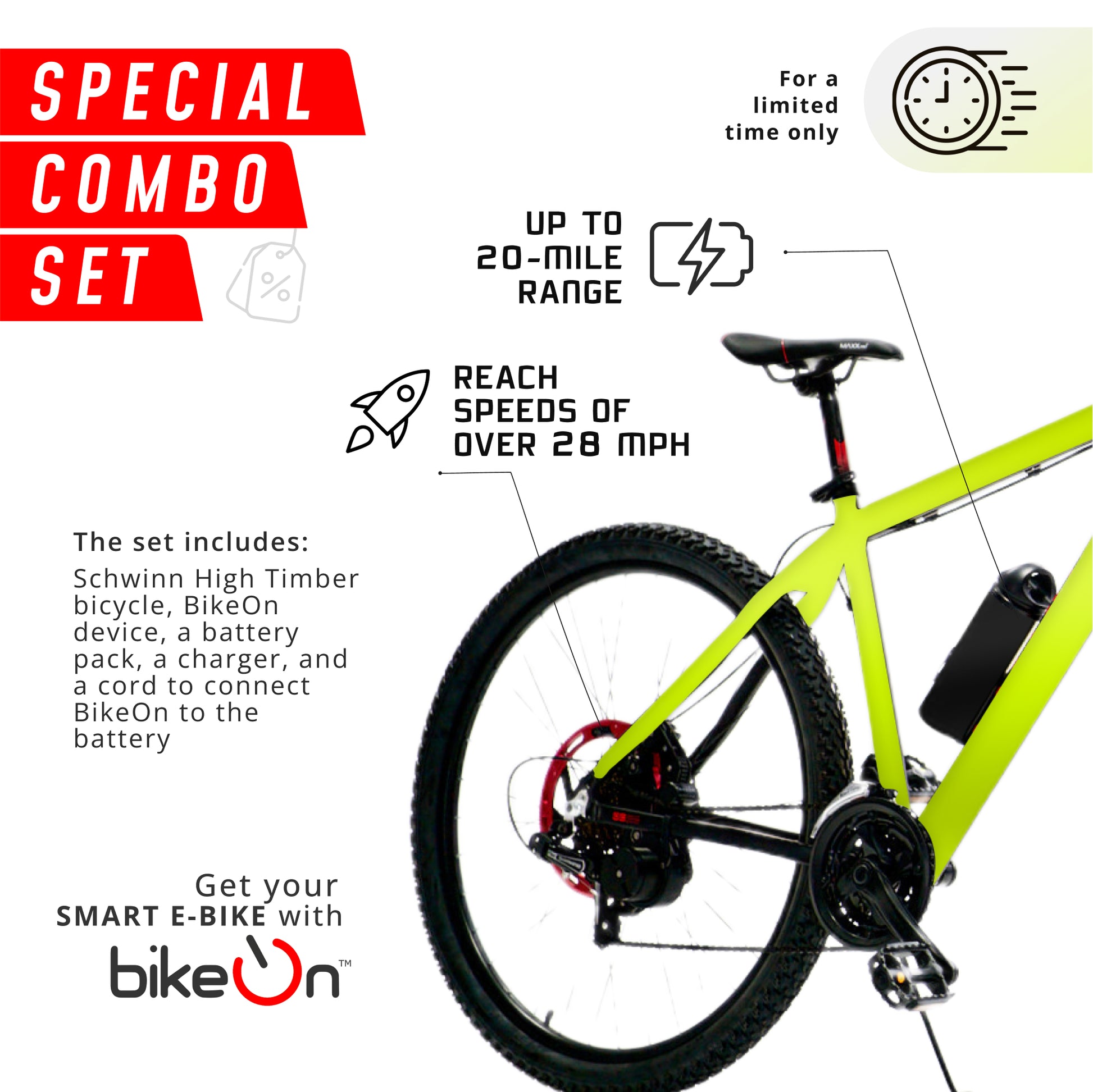 Max Speed: up to 28 mph pedal assist
Weight: twice lighter than average e-bike - 39 lbs/17.7 kg only
14 day returns. FREE shipping.
BikeOn Combo Set
Price:
Regular price
$1899.00 USD
Regular price
Sale price
$1899.00 USD
Unit price
per
Sale
Sold out
Buy our Special Combo set to get your smart E-bike now! Merge the BikeOn device with the Schwinn High Timber bike, and experience a premium smart E-bike
The set includes: Schwinn High Timber bike, BikeOn device, a battery pack, a charger, and a cord to connect BikeOn to the battery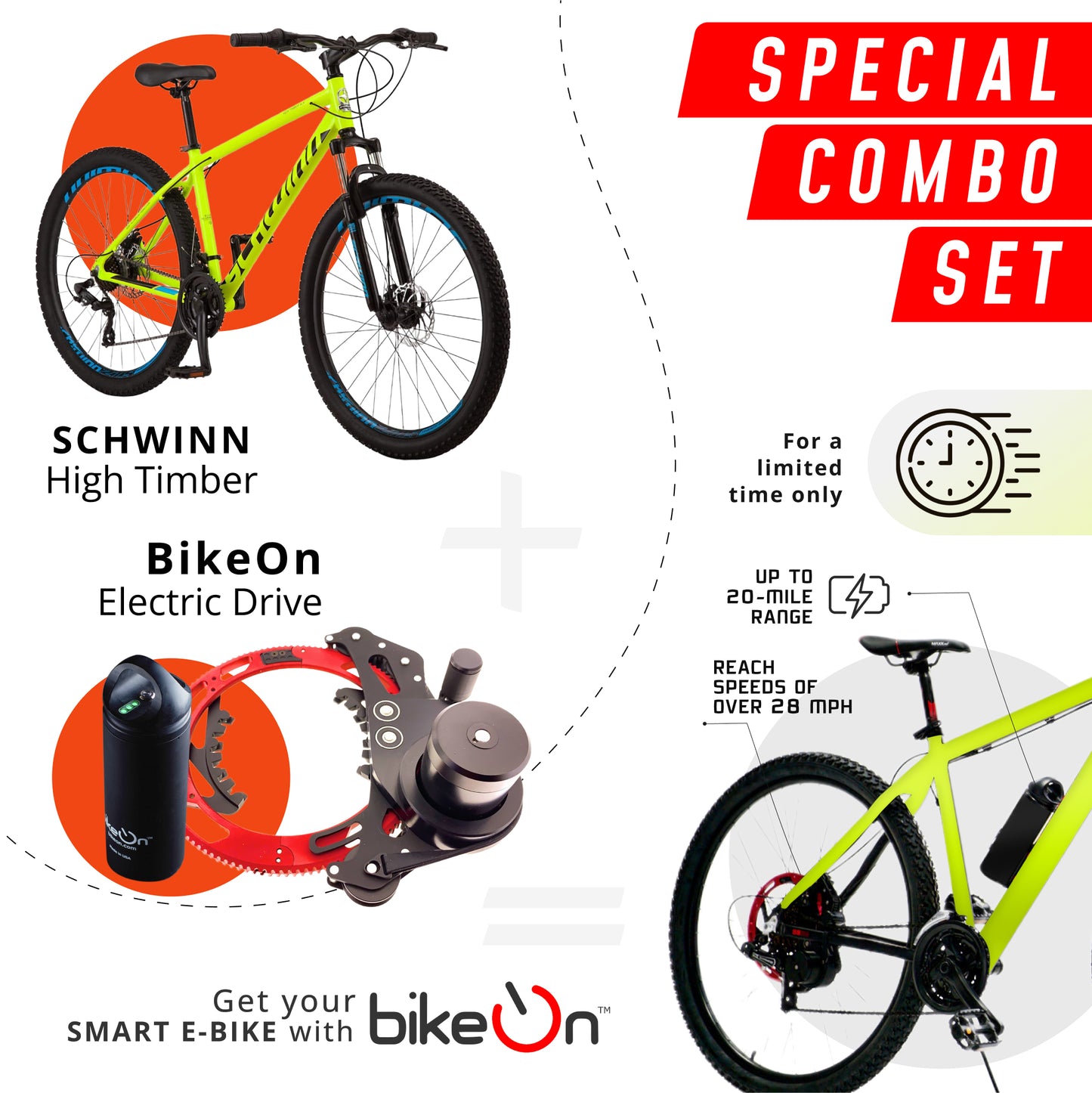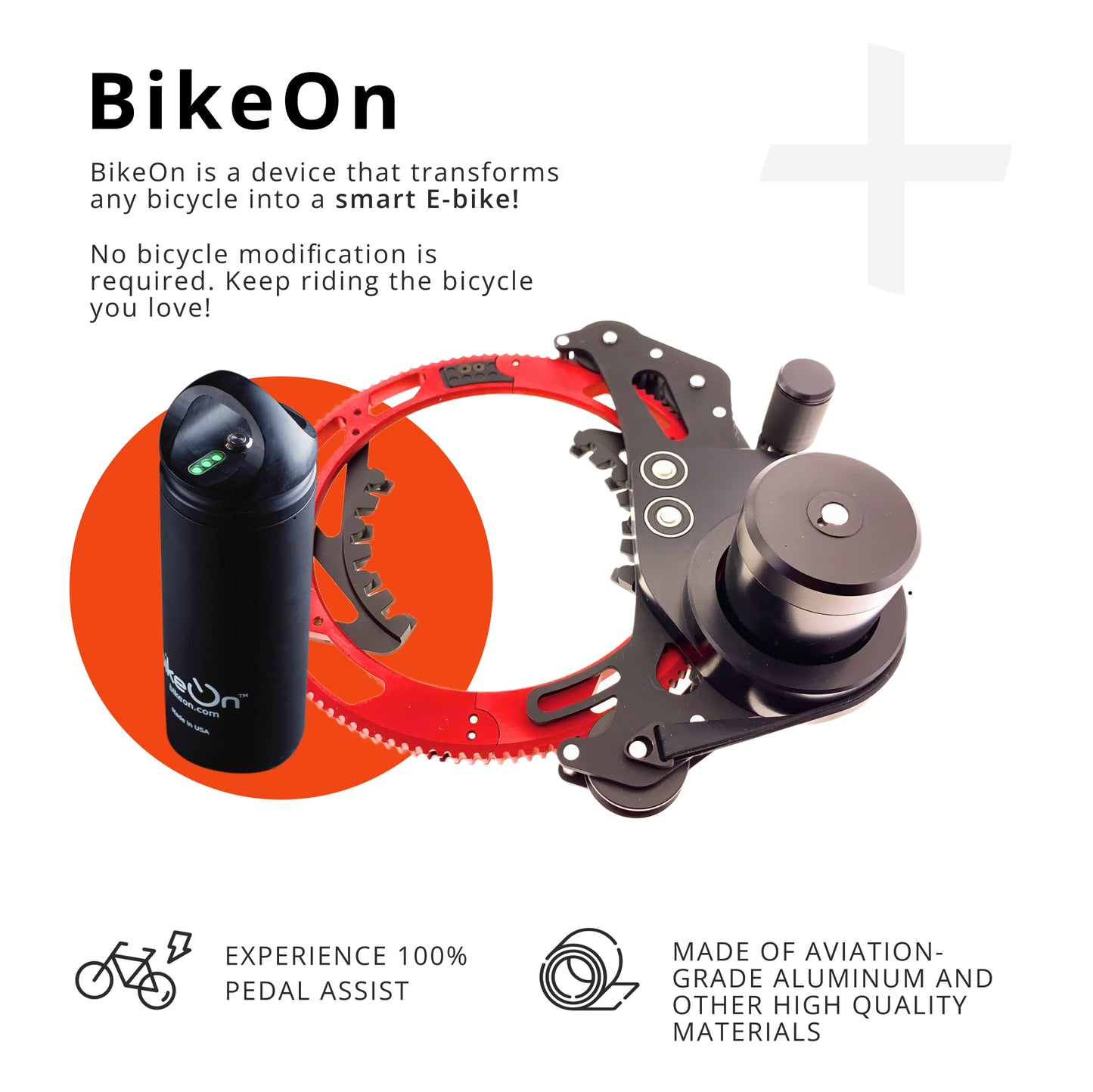 Motor: US: 750W, EU: 250W
Battery: 250 Wh, sleek water bottle design, genuine LG cells; 3.3 lbs/1.5 kg
Bike: SCHWINN High Timber
Range: up to 20 miles
Sensors: torque sensor, accelerometer, gyroscope, magnetometer, barometer
Set Weight: 39 lbs/17.7 kg (bike+ BikeOn). BikeOn weight: 3.8 lbs/1.7 kg (excluding battery)
Materials: aviation-grade aluminum and other top-tier materials
Top speed: 28 mph with the phone connected; 20 mph without a phone connection
Wireless connectivity: compatible with Bluetooth 5.0
Smartphone app: iOS 10 or greater; Android 5 or greater
Buy Now
A hassle-free setup that takes mere seconds. No tools, no bicycle modifications — just pure simplicity. Transform your regular bike (it is already included now!) into a smart e-bike effortlessly, and get ready to embark on a new era of cycling. Say goodbye to complicated installations and hello to the future of easy, tool-free upgrades.
Buy Now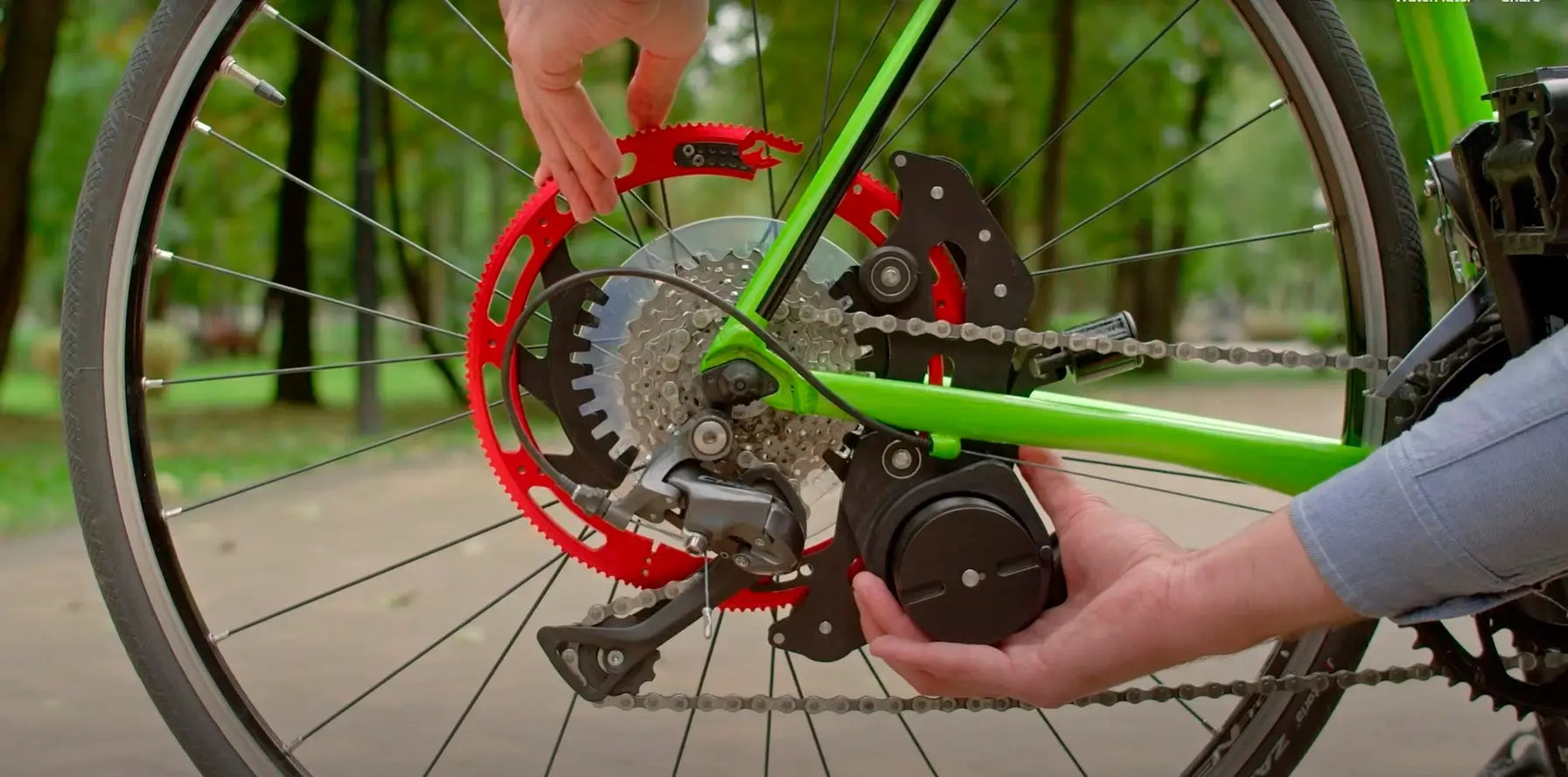 Enjoy the freedom to switch between a regular bicycle and an electric assist at your convenience with BikeOn. Our system is designed to be effortlessly removable, allowing you to use your bike exactly the way you want, precisely when you want it. No need to commit to one style of riding. With BikeOn, you have the flexibility to tailor your cycling experience to your needs. Embrace the best of both worlds—traditional and electric—and make every ride an adventure with BikeOn.
Buy Now
Elevate your cycling experience with BikeOn's advanced intelligence. Our pedal assist system, equipped with cutting-edge sensors such as a torque sensor, magnetometer, barometer, accelerometer, and gyroscope, does more than just assist your ride. It's your personal performance analyzer. These sensors gather a wealth of data, from your pedal power to the nuances of the terrain you conquer. But it doesn't stop there. BikeOn's upcoming integration with smartwatches, health trackers, and Strava will open up a world of possibilities. You'll be able to monitor your progress, track your health, and share your achievements seamlessly. BikeOn doesn't just make cycling smarter; it makes it an unforgettable journey of data-driven exploration. Now with our special combo set you can get ready-to-go solutuon - a custom smart e-bike.
Buy Now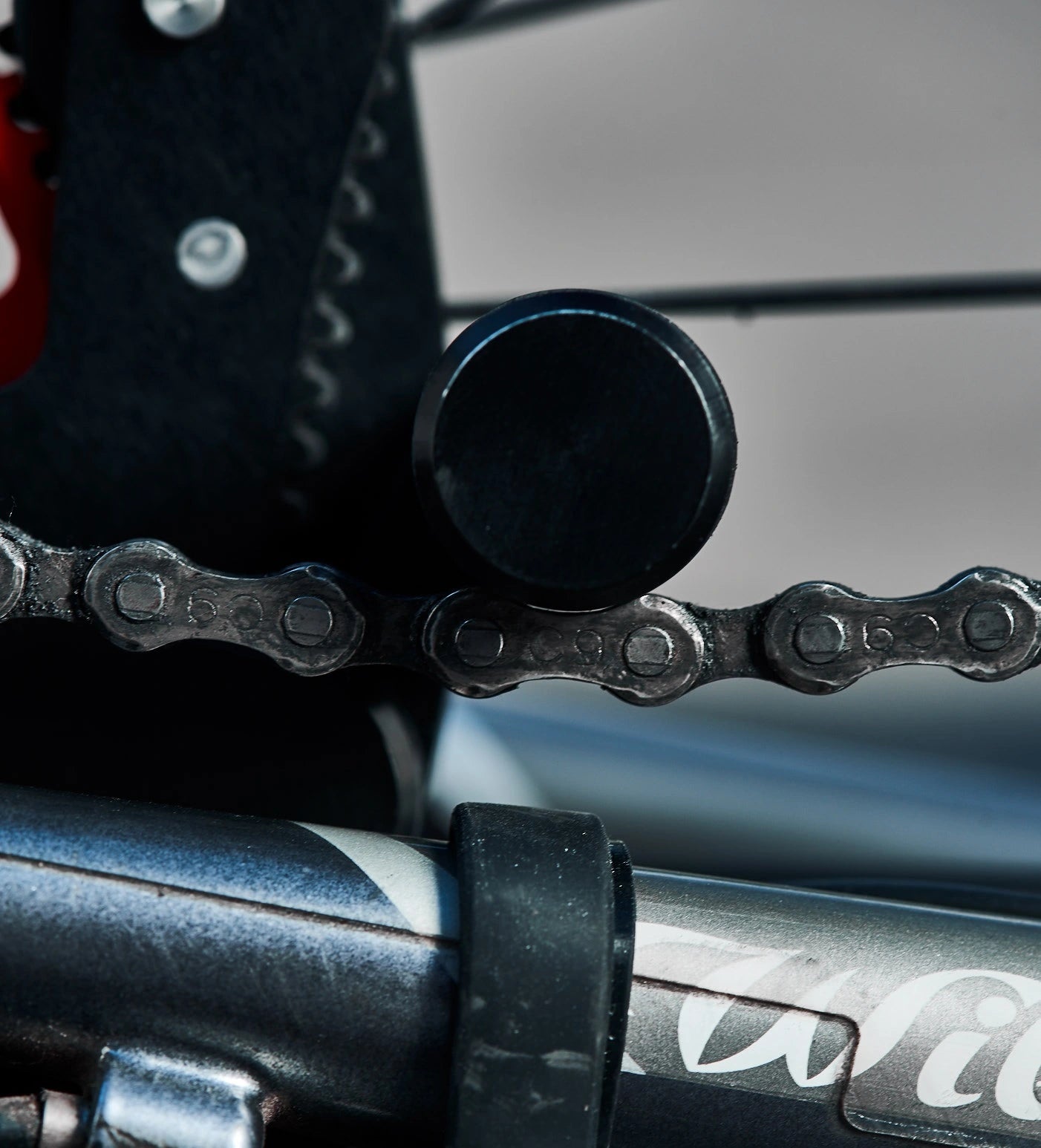 Ride The Bicycle You Love
Our special combo set includes BikeOn emotor heart and SCHWINN High Timber bicycle. BikeOn does not require any bicycle modification. So you can use it on any bike
Buy Now
Let customers speak for us
Reviews by our customers