Our story started with a steep climb to our house. We used to live in sunny California, where biking could be exhausting, especially during the scorching summer months. And then, there was this climb to overcome at the end of the journey. That's when our founder Aram, an engineer and inventor, joined forces with his wife and trusted partner Shushanik to create an innovative solution—an electric assistant for their bikes.
Our vision was to develop a device that would give additional power and enhance the cycling experience without compromising the fundamental connection between the rider and the bike. Safety, reliability, performance, and ease of installation were at the forefront of our design considerations.
In the first couple of years, we conceived the foundational design of BikeOn and unveiled the first prototype at the 2020 Maker Fair. We were grateful for the positive response from visitors who appreciated the straightforward tool-free installation and intuitive operation of BikeOn, which eventually earned us the honor of the Editor's Choice award.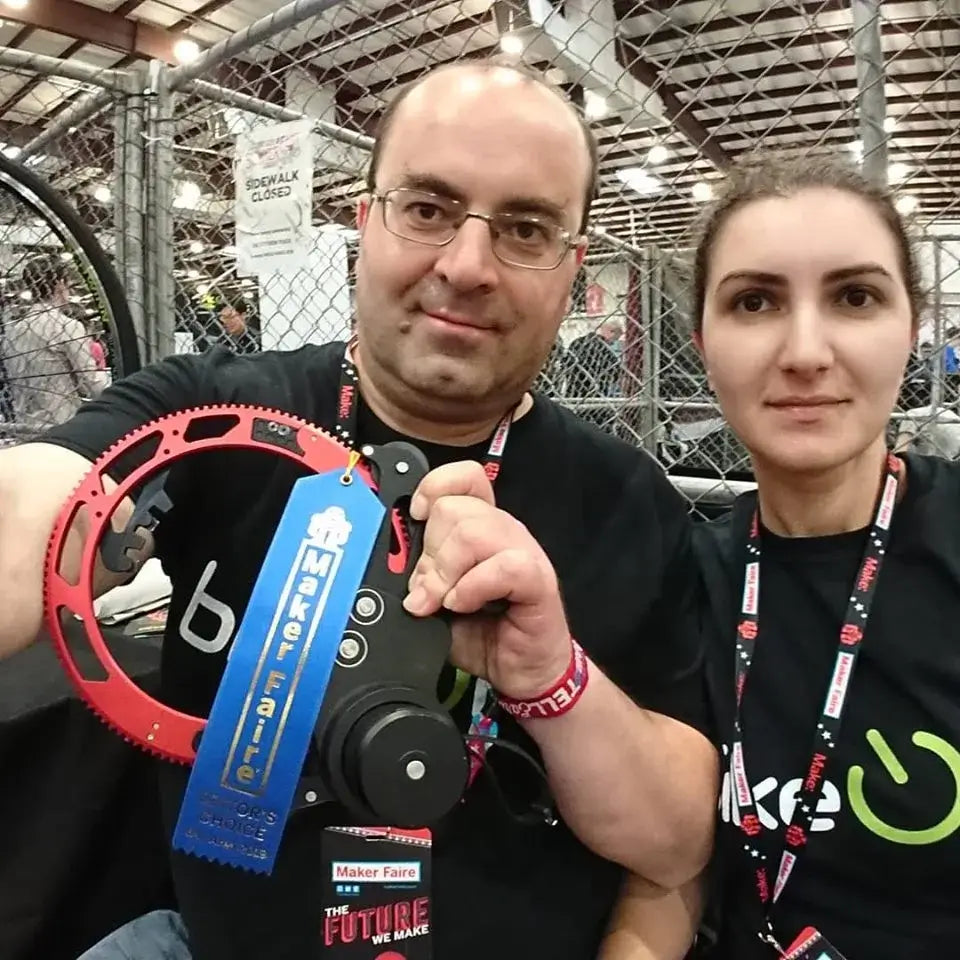 But this was just the beginning. Over the next three years, we were refining and perfecting BikeOn. We tirelessly iterated on its components, making over 70 design iterations to achieve superior results. We also developed the app which provides riders with enhanced control and personalized settings.
Finally, in 2023, we are ready to proudly introduce our flagship product—the BikeOn, a device that allows tool-free conversion of any bicycle to electric assist and back in seconds. At BikeOn, we are driven by innovation, fueled by passion, and inspired by the cycling community. We believe that every pedal stroke has the power to transform not only your own journey but also the world around us. By embracing the freedom and joy of cycling, we can reduce our carbon footprint, promote active lifestyles, and create a healthier, more sustainable future.
Join us on this exciting ride as we revolutionize the way we cycle. Experience the thrill of BikeOn and discover a new world of possibilities. Together, let's BikeOn towards a greener, healthier, and more connected future.
Welcome to BikeOn – Where Cycling Meets Innovation.